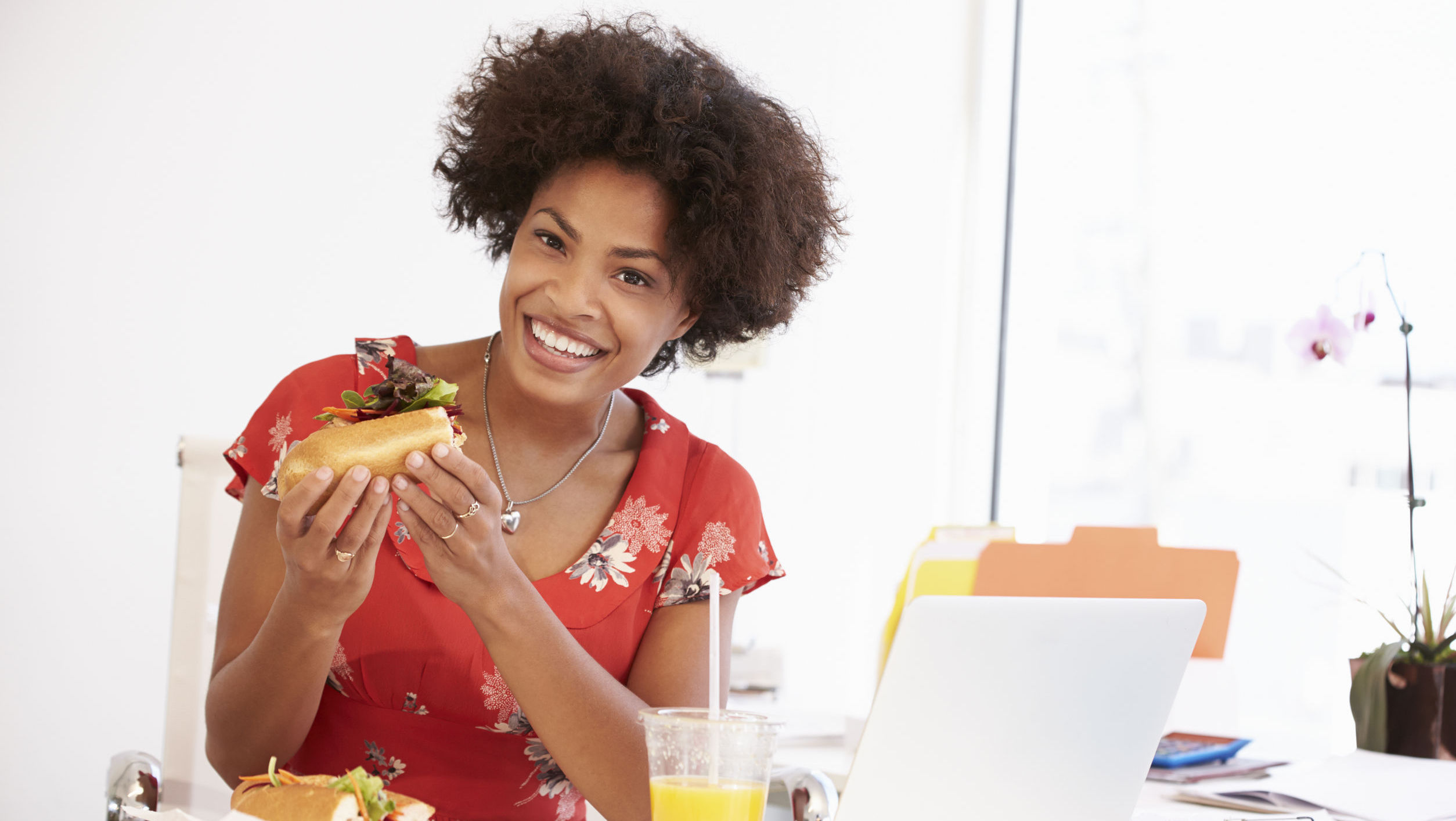 Keep Employees Happy with Healthy, Delicious Food Delivered Fresh
The bar has been raised. Hard-working employees expect good food at work, now more than ever. When looking at the lists of the best places to work, food programs always show up. When the food is especially good, employees stick around and spread the word outside the organization.
67% of Employees are Happier When They Have Healthy Food at Work
An onsite meal program lets people make the most of their time. Countless hours are saved when employees don't have to go through the ordeal of leaving the office, getting into their cars, and finding a restaurant. Everyone loves getting that time back.
Health and wellness have become a mainstream priority in today's culture. People want healthy options; the workplace is no exception. By providing access to high quality, fresh meals, your company meets that growing demand. Addressing health and wellness also leads to decreased insurance costs and fewer sick days.
Companies with the Highest Engagement are 22% More Profitable
When companies promote a food program, teams get in the habit of eating together rather than venturing out solo. They tend to loosen up and get to know one another. Mealtimes become a ritual that strengthen the company's culture every single day. Few, if any, engagement opportunities repeat as frequently.
Why Wholesome Food Services?
Wholesome Food Services is in the business of making lunch at work something that employees can look forward to every day. What makes us stand out the most? Restaurants. Rather than cook our own food, our job is to handle all the moving pieces that go into bringing different restaurants to your workplace; fresh and on time every day. We've been doing this since 2010, in major cities across the country.
Flexibility: Our programs evolve as you grow, offering solutions for organizations of every size.
High Retention: Clients that use our services tend to love them and keep coming back.
National Presence: We are across the country and we're constantly expanding to new cities. If we're not near you, chances are we're on our way soon.
Inexpensive: Most food programs are expensive. Wholesome Food Services' model is uniquely low cost for employers, since our core business model is centered around a revenue share with our restaurant partners. This puts companies in the position to provide a very affordable perk for their employees. For companies that want to subsidize meals for their employees, our model allows for employers to pay part or all of the meal.
Customer Service: Customer service gives us a competitive edge and it keeps our clients happy. At Wholesome Food Services, we hire creative problem solvers. They take ownership and judge their own success on client feedback and client retention.
Restaurant Partners: At Wholesome Food Services, we partner with local and national favorites across the country to ensure your colleagues love their lunch every day.
Easy online ordering system: Manage accounts, order meals, and pay online by credit card. We cover the credit card fees.
Flexible ordering windows: Place orders as late as 1PM the day before delivery or up to 60 days in advance.
Same-day cancellation: Cancel orders for any reason as late as 8AM on the same day of delivery.
99%+ on-time delivery and order accuracy: Our proprietary web-based platform and business processes ensure a high level of on-time delivery and order accuracy.
Donations to your organization: We donate a portion of revenue from each meal purchase back to your organization through our Wholesome Gives program. Wholesome Food Services has proudly donated over $500,000 to schools and organizations enrolled in our program.
Contact us today to learn more about how we can help you offer our best-in-class lunch program your office will love!
Employer Benefits:
Save Time
Keep Employees Satisfied
Offer a Hot Food Solution
Boost Performance and Well-Being
Employees save time with each order allowing them to use their time more effectively and strike a better work-life balance.
We make it easy for employees to get quality lunch options at a reasonable price, keeping them happier and more engaged at work.
Accessible food is one of the most requested office amenities, and Wholesome Food Services makes it easy to offer quality food at a reasonable price.
Our partners are seeing a significant increase in productivity, and employees love the convenience and time-savings.